Old Friends & New
In March I had the opportunity to speak with Archbishop Cyril whilst he was visiting the UK. We had a long and frank discussion for which I am very grateful as I know he is a very busy man (he slotted me in between the Archbishop of Canterbury and the Bishop of Norwich so I can't complain). The Archbishop expressed his firm belief that the Family Values Bill, which seek to criminalise people on the basis of their sexuality, will not be passed in its current form.
I also had the opportunity to meet and speak with Bishop Oscar Amoah, the new Bishop of Kumasi, at a meeting between himself and prominent members of the Ghanaian community in Manchester that was held at the Epiphany Centre in Droylsden.
Finally, I was delighted to finally get to meet Sister Aba who runs the Anglican Eye Clinic at Jachie in the Bosomtwe District of Ghana. I have had news of Sister Aba for many years, and have supported the clinic, but have never had the opportunity to meet her so I am very greatful to our dear sister Elizabeth for making this possible.
March 2022
Christmas Crib
As usual, over Christmas and Epiphany our church Christmas Crib sponsored Mampong Babies Home and we were recently able to send the Home £300 to help support them in the work they do. This is less than usual, in part due to the reduced congregation numbers over Christmas but also due to reticence over the Family Values Bill (see below) which is doing so much harm to Ghana's international standing and support.
February 2022
Proper Sexual Rights & Ghanaian Family Values Bill
Like many people we have been disturbed over the last few months with the Family Values Bill currently being discussed in the Ghanaian Parliament and I have raised those concerns with Archbishop Cyril. This is a very sensitive matter on many fronts and Ghanaians get very agitated by the perception of western interference in Ghanaian legal matters however, as I made clear in my letter to Bishop Cyril, this isn't an issue about legal rights but rather is one of human rights. I believe that there is a distinct line between criminalising people's actions and criminalising people themselves and this bill crosses that line in no uncertain fashion.
Archbishop Cyril graciously responded and whilst supportive of some of the measures in the bill has pledged himself to working to excise the more extreme elements, including the criminalising of people on the basis of their sexual orientation. I continue to keep watch to see if words and good intentions are turned into action.
Join with us in praying for Ghana in these troubling times, that truth and justice might prevail and this deeply flawed, indeed I would go so far as to say evil, Bill is rejected.
November 2021
Ghana Newsletter
The Anglican Internal Province of Ghana is now producing a regular newsletter, Purple News, the first edition of which can be read here.
July 2021
Congratulations
It was recently announced that Bishop Cyril Ben-Smith had bee elected to serve as Archbishop of the Internal Province of Ghana. We wish him every blessing in this new ministry and assure him of our prayers as he confronts the challenges posed particularly in this time of pandemic.
January 2021
Prayer Please
I have spoken to Bishop Cyril of Mampong recently and he has asked me to pass on to you all the love of the Mampong Diocese. He assures us of his prayers for us all and shared some of the diffuculties being faced by the Diocese as a whole. The Cathedral has been live streaming services over the last couple of months and these can be found on the Diocesan Facebook page, search Asante Mampong Anglican Diocese and you should find it. As you might imagine the financial situation is dire and I hope that when we get to meet together again as a fellowship we might raise some money to help them but in the meantime please keep the Mampong Diocese and Bishop Cyril in your thoughts nad prayers. I ask your prayers also for the Diocese of Kumasi, Archbishop Daniel and Father Elvis.
June 2020
Fund Raising
Throughout January our Crib sponsored Mampong Babies Home and those attending our services were invited to make a donation in the collection box at the Crib. I am pleased to say that at the start of February we were able to send off £450 to the home. Please keep Sister Hannah and all the staff and children in your thoughts and prayers at the start of this new year.
February 2020
The 5th Anniversary Celebrations
This month marks the 5th anniversary of the founding of the Mampong Diocese. Unfortunately the Rector is unable to be there for the celebration weekend over the 23rd and 24th November, however everybody at Mobberley Parish Church upholds +Cyril and the whole Diocese in their prayers at this joyful time.
'Know therefore that the Lord your God is God, the faithful God who maintains covenant loyalty with those who love him and keep his commandments, to a thousand generations' Deuteronomy 7:9
Thank You from Bishop Cyril
At the start of February St. Wilfrid's was able to make a donation of £510 towards the work of Mampong Babies Home. This money was raised by our Christmas Crib sponsoring the Home. This money was in addition to the £2000 raised a few months ago to support the new project to build a clinic with mobile facilities in the area to the East of the Diocese approaching the town of Berem. An email was received from +Cyril thasnking us for our continued support -
My Dear Canon Ian,
Greetings, I hope this finds you well.
I acknowledge many thanks your gift donation of 510 pounds for the Mampong Baby Home. The funds will be used to cover expenses on food and also to supplement the salaries oft eh casual workers.
All is well back home and the planning is in place for the mobile clinic as we have started work on two sires for the running of the clinic. We now need funds to procure a strong vehicle and accessories for an ambulance that will be trekking the villages. I am looking for a robust Mercedes Benz ambulance which is cross country. I understand it will cost about 10,000 dollars to have a fully furnished ambulance for the project.
Every Blessing,
+Cyril
We will continue to support the Mampong diocese both financially and spiritually as they develop this important new project.
February 2019
Fundraising for Mampong Babies Home
As has been the case over the last few years our Christmas Crib, which will remain in church until Candlemas, is sponsoring Mampong Babies Home. There is a collection box at the Crib and we encourage all visitors to make a donation towards this important work.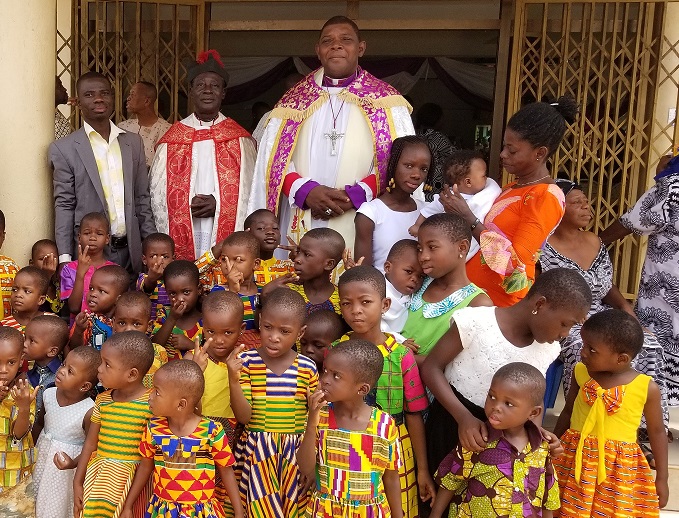 Children from the Home at Mampong Cathedral, Christmas Day 2018
January 2019
Elvis (and Bismark) is in the Building
It was wonderful in October to welcome the Very Reverend Elvis Acheampong back to St. Wilfrid's to celebrate Harvest with us and to attend the licensing of our ex-Reader Michelle Goodrich to her new post as Priest-in-Charge of St. Mary's Alsager. Whilst here Elvis announced he was leaving Kumasi Cathedral to return to the town of Bekwai in order to prepare it for becomeing a new Diocese. We wish Elvis well in all his new post.
Also here for Michelle's licensing was Elvis' brother Bismark. Whilst here Bismark informed us that he also is on the move and on his return to Ghana will be leaving Mampong Cathedral to take on the role of Archdeacon of Juaben. We wish him every blessing also in this new task.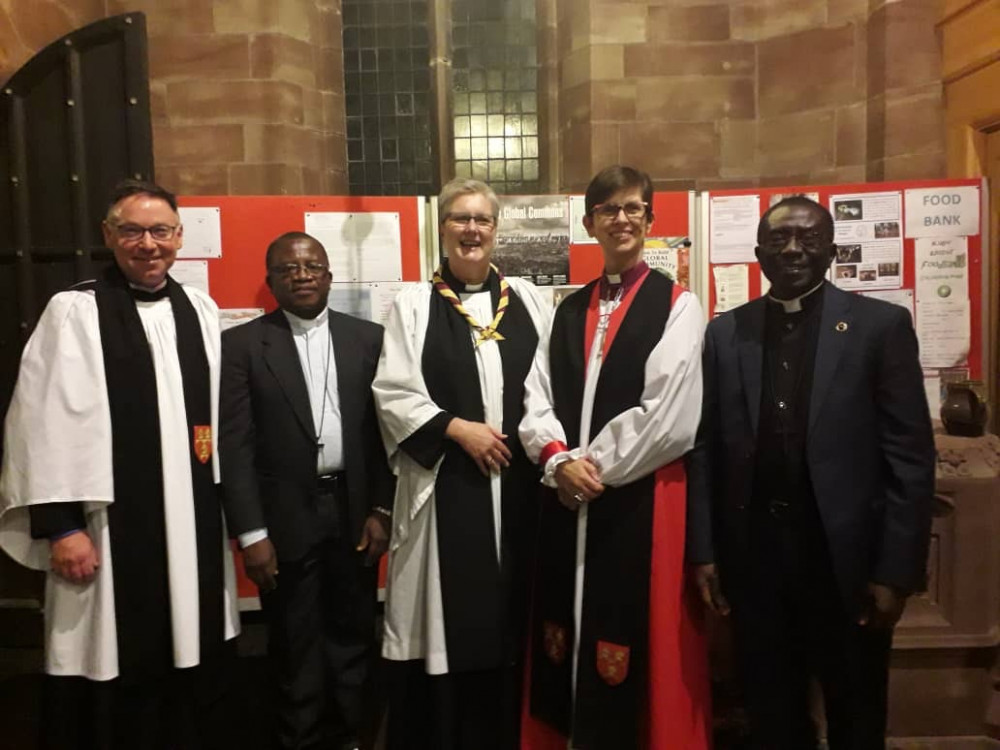 Archdeacon Ian Bishop, Bismark, Michelle, Bishop Libby and Elvis
November 2018
Thank You
Thanks to your great generosity we were able to send to the Mampong Diocese the sum of £2000 towards the work of setting up the Berem Clinic. I would particularly like to thank David Williams for organising the concert in October.
November 2018
Fund Raising for Berem Clinic
As well as collections taking place at Church there will be 2 charity events in October to raise money for the Berem Clinic.
Organ Concert: Our Director of Music David Williams will be performing an organ concert on Saturday 13th October at 7.30 p.m. in Church. Tickets cost £10, which include refreshments and children aged 15 and under get in for free.
Quiz Night: There will be a charity Quiz Night at the Church Inn Mobberley on Monday 22nd October. The picture round will be available from 7.15 p.m. and the quiz rounds will begin at 8.00 p.m. Tickets cost £10.
September 2018
Mobberley Welcomes Bishop Cyril
On the 29th July we had the great pleasure of welcoming Bishop Cyril of Mampong to our morning worship and presided at our 10.00 a.m. service. Bishop Cyril brought warm greetings from the Mampong Diocese and thanked the congregation for their love, support and prayers since the formation of the Diocese in 2014.
He informed us that the Rev. Hannah Nyamekye had taken over as the Superintendent at Mampong Babies Home following the sudden and tragic death of Madame Maggie Addai last year. We keep Hannah in our thoughts and prayers as she continues that important work. He also informed us that the Mampong Diocese was now in the position to take sole responsibility for the Home, something previously shared with the Kumasi Diocese.
Bishop Cyril also outlined plans for a mobile clinic in the eastern region of the Diocese providing preventative and antenatal care in the form of a mobile clinic. There are no real towns in that area, the only one we could find on Google Maps was the town of Berem so we are calling it Berem Clinic although the link in reality is very tenuous. Mobberley Church intend supporting this new project and are looking to raise money towards it throughout October.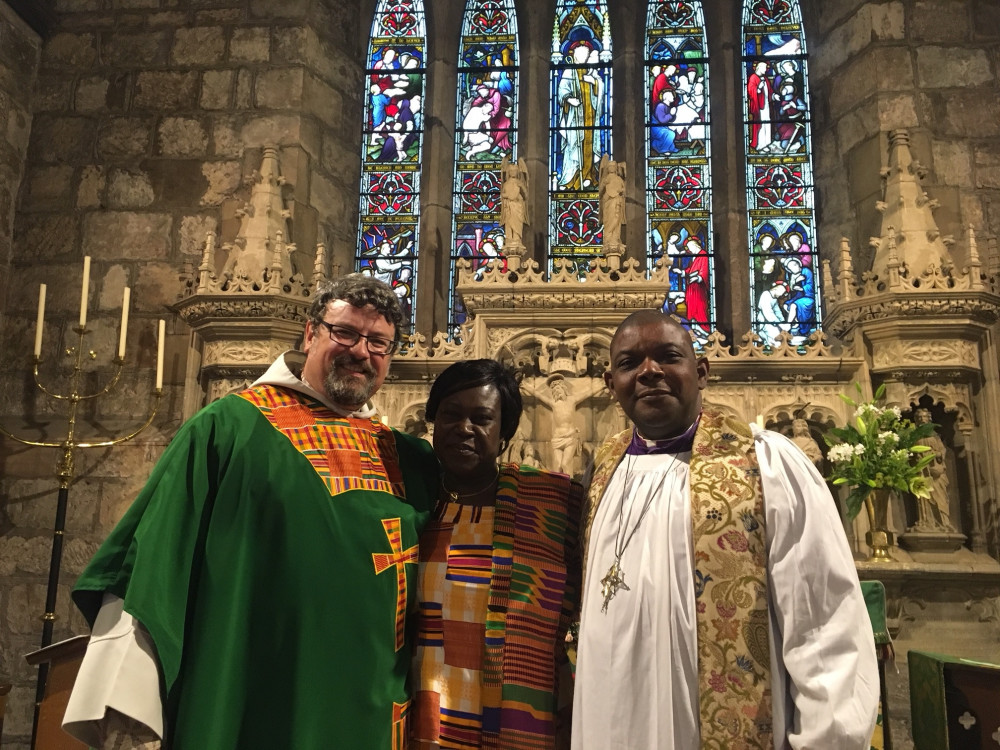 July 2018
Train a Priest 2017
This month we make our last payment of £3000 to support the training of Isaac and Joseph who, all things being well, will be ordained at Mampong Cathedral next summer. Their training has been supported by individual pledges from members of the church congregation and we are very thankful to everybody who contributed. We shall shortly be looking for a new project to support in the Diocese,
July 2017
Welcome to the Very Reverend Elvis Acheampong
Our ex-Reader, Michelle Goodrich, is to be ordained priest on the 17th June and we are delighted that the Very Rev. Elvis Acheampong is here for the service. Michelle is currently serving as curate in the Parish of St. Peter, Prestbury and Michelle, her husband Julian and friend Beverley Angier joined us on our recent trip to Ghana.
Elvis will be joining us for worship on the 25th June and our 10.00 a.m. service will include a special presentation on our visit. Elvis' brother Bismark is the Acting Dean of Mampong Cathedral and was himself once the Parish Priest at Mampong.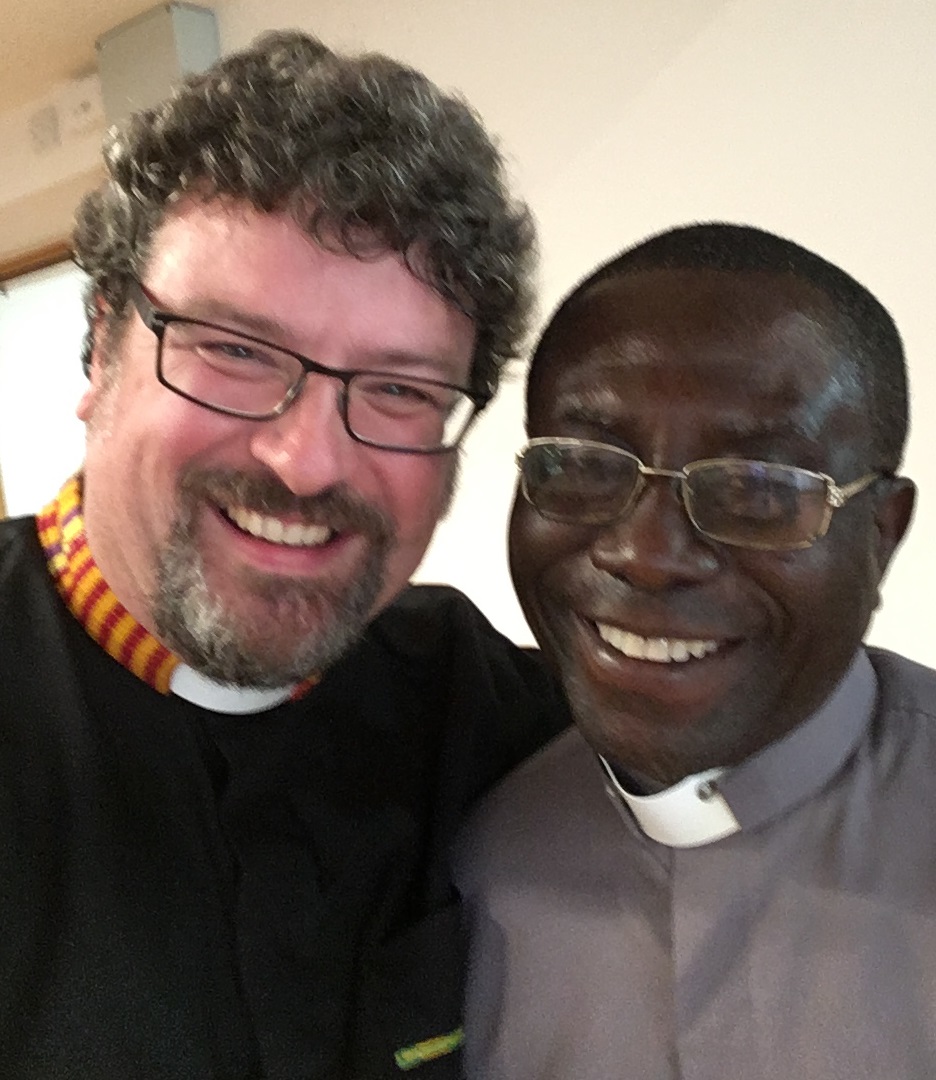 Margaret 'Maggie' Addai R.I.P.
We give thanks for the life of Margaret Addai, the Superintendent of Mampong Babies Home who passed away suddenly on Saturday 25th March. We saw Margaret, or Maggie as she liked to be called, on out visit to Ghana just a few short weeks ago and the Rector has known her for many years, from when she was Deputy under Sister Mabel. Maggie collapsed after giving a speech at the 50th Anniversary celebration of the Home.
Our prayers are with her family and with all the Staff and children at the Home, as well as Bishop Cyril and Archbishop Daniel as they look for a new Superintendent. Maggie's death has left an enormous hole, we pray that God's love may enter into that gap and bring healing, comfort and peace.
Margaret Addai, may she rest in peace and rise with Christ in glory.
March 2017
Ghana 2017
In the end 13 of us, 10 from Mobberley and 3 from Prestbury, made the journey to Ghana, flying from Manchester on the 31st January and transferring at Amsterdam before landing at Kotoka Airport in Ghana at 8 o'clock in the evening.

On leaving the airport we made our way to the coach that would be our transport for the next 9 days. We stacked our cases somewhat precariously on the back few rows of seats, where Canon Ian managed to split his head open and had to retire to the subs bench injured. We then received our first true introduction to Ghana when the bus refused to start. For John G it was his first standout memory -

On arrival at Accra and boarding the coach, which refused to start, and witnessing the driver hitting the battery with a brick to fix it (the battery being situated under Ann H's seat, between her legs!)

After 15 minutes of fiddling with battery connections the bus sprang into life and we took the hour-long journey to our first stay, a rather unprepossessing hotel on the outskirts of the city.

On the following morning we set out along the coast road heading west from Accra to Cape Coast. Cape Coast was the focal point of the West African slave trade and is named after the slave forts that dotted the coast. We arrived at the main Cape Coast Fort where we went on a guided tour. Mary Harwood reflected on this -

Cape Coast Fort, the size of the pens/cellars they were kept in and the conditions - although we have always heard about them, to actually see it and be in the cellars and then hear the conditions, really brought the horror home to me, and it was interest talking to Bismarck after and hearing that they feel guilty too for selling their families into slavery.

At the far end of the dungeons in what is effectively a cave in the rock is a shrine in memory of the tens of thousands of people who were incarcerated in the dungeons. One particularly moving part of the fort is the Door of No Return through which the slaves embarked onto the ships to be transported to the Caribbean and Americas. In recent years it has become something of a tradition for people of Ghanaian descent to come to Cape Coast and walk back through the gate as a symbolic return to their homeland.

From the Fort, and after a lunch by the beach, we then made our way to St. Nicholas Seminary where we met the Principal, some of the tutors and of course some of the students including Isaac and Joseph whose training, as I mentioned in last month's magazine, individuals from St. Wilfrid's have sponsored. St. Nicholas is the only clergy training college in Ghana and as well as local ordinands has trained people from Guinea, Cameroon, Sierra Leone and Liberia among others. John G noted -

Meeting the ordinands, including Isaac and Joseph who are sponsored by St. Wilfrid's, the Principal and staff was a real joy. The Principal talked to us openly, and eloquently, about the struggle they have with lack of resources, including a severe shortage of laptops for the students

The current Dean is the Very Reverend Emmanuel Addo who was very pleased with the progress that Isaac and Joseph were making, he is pictured alongside Elvis and Marianne, who is one of the tutors.

From St. Nicholas we went to our hotel where we were staying for the next 2 nights. The hotel is beside a large pool which has crocodiles in it, one of which joined us for dinner on our first evening.

On the Thursday we went to Kakum National Park. This park, set within a rainforest, is a haven for wildlife, although being wild it isn't very easy to see them. The highlight, quite literally, of the visit is a chain of rope bridges strung up in the canopy of the trees which afford a fantastic view and the occasional glimpse of an animal, although not for us on this occasion, however it is exhilarating simply to be up there.
We took the rest of the afternoon off preparing ourselves for the long journey the following day when from Cape Coast we travelled inland to the city of Kumasi, the capital of the Ashanti region. We spent a lot of time on buses, something Anne Howard reflected on -

Sitting in a bus in boiling temperatures sounds like a definition of torture but it was actually fascinating and a highlight of the trip. There was so much going on, people balancing unbelievable amounts and types of stuff on their heads; at one point we saw a little boy with a large bucket of water brim full on his head. We couldn't understand how he could support the weight never mind not spill it. And a most amazing display of fruit and vegetables will never be forgotten. The countryside changed from lush, thick vegetation in the south to savanna land in the north at the safari park. And in some places there were masses of concrete buildings, finished and unfinished, and shanty towns; in others villages of thatched huts with goats running around them.

In Kumasi we were booked in the Basil Presbyterian Guesthouse, or the Presby as we called it. This was to be our home for the next few days and so for the first time we felt like we could settle in a little. The Saturday was given over to looking around Kumasi with visits to the Royal Palace Museum and the Kumasi Cultural Centre where everybody had the chance to buy their souvenirs. Something noticed by our group were the extraordinary shop names prevalent in the Ashanti region. Ann Grainger noted -

At the roadside were a multitude of small businesses seemingly trying to out-do one another in showing their faith by calling the business inventive names like 'Jesus Saves Carpentry', 'Messiah Electrics', 'God loves Supermarket'. I'm not too sure what the 'Love Me Spot' was! [Ed. A 'Spot' is the Ghana word for a pub]

It was also the opportunity Ian and Michelle had to prepare their sermons as both were preaching at Kumasi Cathedral the following day, Michelle at the 8.00 a.m. service at Ian at the 10.00 a.m. The worship was one of the things people remember best, Mary again remembers -
The services were awesome, the colour, passion and joy were amazing. Meeting the Archbishop of the Province of West Africa was an experience, his humility was amazing - such a nice guy. Being served water and tea by the Dean of Kumasi and the Archbishop was surreal. Watching the children and adults coming up to be blessed was lovely and mind blowing, the kids ran to the rail and the adults seemed to have no embarrassment about coming up, the collections were all about the pleasure of giving thanks rather than the amount anyone gave, in fact we were encouraged to just go and give even if we were just pretending as it was about the thanks giving. Another part of the service was the goods being brought to the altar by the Mothers Union, we weren't sure if it was harvest festival or not, but the array of goods and everything being blessed was fabulous.
And Anne again recalls -
Both Sundays we were up at 6 and in the Cathedrals till 1 or 2 o'clock but there was so much going on. We got quite into the swing of dancing up to the collection plate but of course the music was irresistible. And different groups of people would file up to the altar, some again with produce on their heads, then seemingly hundreds of Sunday school children who got sprayed with holy water, we were very happy to be caught by some of it and cool down a bit.

John G wrote of the worship at the Cathedrals -
Enthusiastic, vibrant, joyous, colourful, noisy, moving, similar, different are some words to describe the services we attended at Kumasi and Mampong Cathedrals. The services are longer than we are used to, Kumasi being almost five hours. Notwithstanding the best endeavours to cool us with electric fans those of us wearing robes sweltered. As many as possible of our group were enabled to take part in the services by reading, leading intercessions, preaching, telling our mission and singing. For Ann and myself our singing of "Be Still for the Presence of the Lord" at both cathedrals was very special will be something we will never forget.

As John mentions members of our group were encouraged to take part and at both Cathedrals Andrew Harwood led the intercessions. John Hennerley and Beverley Angier (from Prestbury church) spent much of the morning in the Sunday School with the hordes of children. John H recalls -

Whilst on our mission to Ghana I was privileged to be allowed to attend the Sunday school lessons at both Kumasi and Mampong Cathedrals. What a fantastic experience that was, the small rooms that they were held in, were packed full of children of all ages. The children were all smartly dressed in their Sunday best and shiny shoes with one little boy even wearing a dicky bow. It was exciting to see their enthusiasm and willingness to get involved and you could feel the unity in the room. Music and dancing was a major part in their worship and to call it Loud would be an understatement, as they were all really enjoying themselves Singing Gods Praises. All I could do was join in even though I think my actions to the songs were a bit slower than everyone else's. What a fantastic way to Praise God. This is among one of my many cherished memories of my trip to Ghana.
After the service, which lasted around 5 hours (not including the earlier service), the Archbishop, the Most Reverend Daniel Sarfo, took us out to lunch at a rather smart hotel, the Golden Bean, where we kicked back a little and, after the Archbishop left us, either lazed in the garden or watched football in the bar.

The next three days were a blur of travel, heat and adventure as we went 'up north' to the savannah region near the city of Tamale to visit Mole (pronounced Mol-ay) National Park. The landscape in the north was very different from what we had seen before, being sub-Saharan rather than rainforest. People lived in round adobe huts with thatched roofs, although the presence of the odd satellite dish spoke of creeping modernity even here. The setting of the Safari 'lodge' was stupendous, up on an escarpment overlooking grassland and scrub where elephants roamed and came to bathe. It was well worth the 8-hour drive to get there. Where we stayed was at the southern end of a large park and although there are apparently a variety of larger animals here in our visit it was the elephants that we saw. After a morning on walking safari where we got up close, sometimes too close, and personal with some elephants we spent a fantastic afternoon sunning ourselves by the swimming pool watching a troop of elephants bathing in the watering hole below.

On the Wednesday we returned to Kumasi, an even longer drive due to the Kumasi traffic, and after a somewhat difficult night in a different hotel we returned to the Presby for the remainder of our stay and the meat of our visit because on the Thursday we went to Mampong and to the Babies Home.

The journey to Mampong takes about one and a half hours by bus and we went first to St. Monica's Experimental School (Experimental because it was built to take the overspill from the other St. Monica's and it was uncertain whether it would work and stay open. It has and it will) with which Mobberley Primary are developing a link. Anne remembers

St Monica's school, the midwife's training college and the babies home. Such amazing people, doing such a great job. The enthusiasm of the school children was infectious, and they just loved Immy and Georgia, and the staff were friendly and welcoming.

The school has just six classrooms set along one side of a huge red dirt square which is the playground that it shares with three other schools, one of which is private. The Head Teacher of the school is Patience Gyamfuaa, she called the children out of the classrooms to greet us and it was there we presented her with some of the educational materials we had taken out. Lots of pens and pencils, inflatable globes, educational wall posters, rulers and rubbers. To assist with the school link Patience was also given a laptop donated by Mobberley Primary as well as some books and items of Mobberley School uniform.
Whilst Ian stayed on to do a bit of filming the rest of us went to look around the midwife training college before going to the Babies Home.

We were warmly welcomed by Margaret who is the Superintendent of the Home. She explained how with improvements in antenatal care the number of new born babies left in the home is gradually going down, unfortunately there is a growth in the number of abandoned toddlers so the focus of the Home is having to shift slightly to the older children. The Home raises mixed emotions, admiration for what the Staff are trying to do but also shock and sadness at the resources with they have to work with. This is well summed up by John H -

My jaw dropping moment in Ghana was upon walking in to Mampong Babies home. The lack of any equipment, clothing, furniture, toys, soft toys or play equipment hits you immediately. The rooms were spotless, which is a testament to the carers that work there, and look after these children, but the enormous lack of anything else is extreme. My heart sank when I saw the metal cots in which the children slept. The mattresses, if you can call them that, were paper thin and could not give comfort. These children are loved by the carers so much, which is what this home is built on, but they need so much more. Just keeping this home open to look after these children costs so much, that our funding from St Wilfrid's is vital for it to keep going. It is without a doubt, that my life has been changed by this one experience alone, never mind everything else I experienced in Ghana. This memory will live with me forever.

John G also noted -

The visits to the two schools and the babies home brought out mixed emotions. One couldn't help but be awed by the dedication of the staff and the enthusiasm of the pupils. However it was such a humbling experience to see how these institutions were coping with the few resources at their disposal and at the babies home we heard distressing stories that moved one to tears.

After lunch and a tour of the Home we presented to Margaret with a mountain of gifts that we had taken but which so many other people had donated. Everything from toys to clothes to toothpaste and brushes. Joining her were Pauline and Alison two ladies from South Wales who were staying at the Home as volunteers. All in all it was an emotional and thought provoking day.

On the Friday morning we visited another school, this time in Kumasi and paid another visit to the cultural centre before going for a lovely lunch at the home of a lady called Gertrude. The Kumasi traffic was a nightmare and we returned to the Presby hot and bothered but with a treat for Ian as two people from his previous parish, his clerical colleague the Rev. Jack Hemsworth and a parishioner, Sandra Hughes, had flown in. That evening we all went for dinner at the home of an old friend of Ian and Jack's called Deborah and there celebrated John H's birthday in grand style.

The Saturday was one of the most bizarre days as we went to Kumasi Cathedral to share in a wedding in the morning and a funeral in the afternoon. John G remembers -

We were all invited to the wedding of Daniel Asante & Amy Akosua Darkwah on Sat. 11th Feb. This was via Elvis who was officiating and of course we didn't know the couple. The order of service stated 11.00am prompt but by 12.10pm there was still no sign of the bride. This didn't bother Elvis at all because he started the ceremony without her and when she did arrive at 12.30 she just slotted seamlessly into the proceedings!!! wonderful.

After the wedding, in which Ian got them to exchange rings, Michelle prayed over them and Ann presented them with their wedding certificate, we went to the home of Elvis and his beautiful wife Adelaide's for lunch. Following this we then paid our respects at the funeral of a gentleman who had died. Ann was interested in the funeral customs -

Death is not a 'hidden' event in Ghana, it is celebrated. We attended two funerals at Kumasi Cathedral, one of them we rather gate-crashed but were invited to participate. Many is the time that we saw billboards at the roadside giving details of funerals for a loved one, giving a snapshot of the love and respect the families & friends had for the departed one. The service is not a quick 'in-and-out' affair either. It starts in the Cathedral early in the morning, then the family sit outside all day under large canopies of red & black, allowing everyone to come and pay their respects by shaking hands all along the rows of family members. This to the constant (loud) accompaniment of drums, bands & singers. We saw a few 'service sheets' left behind and these are not the single sheet black & white printed cards that tend to be the norm here. Glossy productions with photos of several generations of the family, each in a section giving a tribute to their relative. The official mourning period lasts a week when another day is spent sitting outside the Cathedral, this time the colours being black & white.

Sunday took us to Mampong Cathedral which is smaller than Kumasi and in some ways, as befitting a newer Cathedral that was until recently a Parish church, a little less formal. Unlike the previous week when our group sat in the choir stalls 'on show' this time we sat with the congregation and were able to join in more fully.

After the service we made our way to Nkwarie to the home of Elizabeth Welbeck, another member of Ian's previous congregation, for lunch. This entailed driving all the way back into Kumasi and then out again. The traffic this time was truly horrendous as the city was completely gridlocked mainly due to an open day at a large school, unbelievably this happens every month. What should have been a two-hour journey took over four. We had a wonderful afternoon meeting old friends and new before driving back to Kumasi on what was probably the most frightening road journey those sat at the front of the coach have ever had the misfortune to experience.

Monday was a wind down day with a tour of the Kumasi market for some of us led by Father Andrew from London, who also happened to be out in Ghana at the same time, followed by a final visit to the Cathedral to say farewell to Adelaide and, as mentioned earlier, to gate-crash another funeral.

It was a tremendously busy and exhilarating two weeks, here are some final thoughts -

Andrew: Over the two week period, having experienced the poverty, and yet the joy and happiness the people of Ghana bring to life, it started and continued to make me feel uncomfortable with how we were treated with so much love and affection, and yet we life in our own little bubble with not much to really worry about. I hope we can arrange to do more and maybe arrange a 2018 trip. Who knows what the future holds?

Ann: A major feature of the Ghana we saw was that their faith was very much out in the open. Travelling around the city of Kumasi there would be seen enormous billboards advertising Christian meetings of many denominations – prayer meetings, bible reading meetings & periods for fasting & renewal.

Anne: Side by side with colour was the warmth, baking hot temperatures enveloping everything and also the warmth of the welcome we received wherever we went. We were very fortunate to see the country as visitors rather than tourists and were warmly welcomed by everyone into their homes, schools and churches. We travelled huge amounts of the country, saw the land, the people, learned about the culture, the history, the churches and even saw some of the animal kingdom.

Ian Barnes: Having spent time on the Continent before the poverty and generally poor conditions was not a surprise. However the way that the people coped with this was remarkable. I have never know such a welcome and warmth with people wanting to shake our hands and welcome us to their Country.

Mary: We were so welcomed! We went to three parishioners homes for meals, they had to serve 14 - 15 extra people, it was interesting to see inside the houses especially at Gertrude's house, the food was lovely but she was an ordinary person and so to see inside her house was lovely it was very comfortable and cool, I was expecting little furniture and it to be hot and stuffy.

John G: What a wonderful opportunity we have had to meet with friends from another culture and experience their faith and worship world. To join with them and get a taste of their worship and what worship means to them was both amazing and challenging. The questions and challenges we bring back to our congregations at St. Wilfrid's will take some time to work through and work out.

We are going to hold a special video presentation with lots more detail on Sunday 7th May at 10.00 a.m. when we shall be holding a Ghana Special service. Do put this date in your diary and come and join us.
Parish Visit to Ghana 2017
A week ago our group of thirteen travellers returned from our visit to Ghana. It was an exhilarating and exhausting 2 weeks in which we travelled from Accra to Cape Coast to Kumasi to Mole in the far north. We met many old friends and made a good many new ones.
Highlights of the trip were joining in worship at Kumasi and Mampong Cathedrals, fostering a link with St. Monica's Experimental School and Mobberley Primary School and, of course, visiting Margaret and the wonderful staff and children at Mampong babies Home.
Whilst there we also met up with some friends from England, the Rev. Jack Hemsworth and Sandra Hughes from Droylsden (Ian's previous parish) and Father Andrew Grant from London who is pictured far right on the photograph of the Celebration Mass below.
Those who went were incredibly generous and took clothing, toys, medical supplies and educational equipment which we shared with the Babies home, St. Monica's and St. Cyprian's B Primary School in Kumasi. We also raised around GC7500 which we transferred to help the work of the Home.
We also had the great pleasure of visiting St. Nicholas Seminary at Cape Coast where we met Isaac and Joseph the two young ordinands whose training we are sponsoring.
We had with us two ex-members of our congregation, Michelle and Julian, who have recently moved to Prestbury where Michelle is now Assistant Curate and they persuaded the Rector of Prestbury's wife, Beverley, to join us also. I know that they were looking for possible projects for Prestbury to support.
February 2017
UK Celebration of the Mampong Link
On Saturday 9th July I joined Bishop Cyril Ben-Smith, some of the other UK Canons of Mampong Cathedral and other friends of Mampong at what we hope is but the first service celebrating the link between the churches of the UK and the Mampong Diocese.
The service to place at the church of St. John the Divine in Kennington, South London, was a Concelebrated Mass presided over by Bishop Cyril who was also the preacher. It was a great occasion and it was wonderful to meet again Alice and Akiebel who I met at the installation service in January last year.
July 2016
Mampong TAP 2016
Only this last week we have been able to deposit £3000 into the Mampong Diocesan account to support the training of ordinands for the Mampong Diocese. Many thanks to everybody who contributed and who has committed to fund their training for the full three year period.
July 2016
Ghana 2017
The cost of flights to Ghana recently dropped, for a short period at least, and in a mad scramble during the first half of England's Euro match against Russia, 12 of us committed ourselves to going next year. This is a very exciting time with a good deal of preparation needed however we are looking forward to going over there and visiting our Brothers and Sisters in Christ. We will also need to turn our thoughts to a little fundraising as well. Bishop Cyril will be in the UK very shortly and I hope that we will be able to arrange a meeting with him.
June 2016
Train A Priest Year 2
We are now in the process of collecting in the money that people had promised for the training of two of the Mampong Ordinands at St. Nicholas College, Cape Coast. It is our hope that the money will be with the Mampong Diocese by the end of June. Many thanks to everybody who has agreed to sponsor those in training for ordained ministry in God's Church.
May 2016
Congratulations to Father Elvis
Belated congratulations to the Venerable Elvis Acheampong who was recently made the Acting Dean of St. Cyprian's Cathedral Kumasi. Father Elvis has for the last 3 years been the Archdeacon of Obuasi. We pray for Father Elvis as he begins this new ministry in Kumasi.
January 2016
Parish Trip to Ghana 2017
There is a group of between 12-14 congregation members who are embarking on a trip to Ghana which will take place at the start of February 2017. We are looking forward to seeing some of the sights of Ghana but more importantly meeting the people and visiting Kumasi and Mampong Cathedrals and, of course, Mampong Babies Home. I know it's wrong to wish your life away but roll on Feb. 2017!
14/11/15
Train A (2nd) Priest
I am delighted that due to the generosity of members of the congregation and of the Parochial Church Council Mobberley Church is able to support the training of a 2nd priest in the Mampong Diocese. Together with what has previously been both pledged and agreed this means we have pledged £3000 a year for 3 years to support the ministry of the Church in Mampong. Thank you to everybody in the church community who has responded so generously.
11/11/15
Golf Day 3
I am delighted to announce that the Charity Golf Day raised £2275 for Mampong Babies Home. Many thanks to Laurence Smith, his team of helpers and all who supported this fantastic event.
/10/15
Golf Day 2
The Charity Golf Day in aid of Mampong Babies Home took place yesterday. It was a terrific event blessed by some beautiful weather in the afternoon. Congratulations to the winners, best individual Richard Milner and top team Richard Yates, Neil Fox, Matthew Knight and Lorenzo Ordonez.
The event has raised somewhere in the region of £2300 which will be winging it's way to the Babies Home shortly. Many thanks to everybody who took part, to Styal Golf Club for hosting the golf tournament, the Church Inn, Mobberley for providing the excellent dinner but most especially to Laurence Smith for organising it all and for choosing Mampong babies Home to be this year's beneficiaries.
(19-8-15)
Supporting Ministry
This week we have transferred £1500 to Mampong to pay for the training of one of the ordinands selected by the Mampong Diocese. We have had a fantastic response and in addition to funding one ordinand we expect to be in the position of at least partially funding a second. Bishop Cyril expressed his thanks, he wrote ""I must express our sincerest appreciation for this gesture. This lifts a very heavy burden from our shoulders." Many thanks to everybody who has responded so generously.
(17-8-15)
Ordinands Selected
The Mampong Diocese was only created in November 2014 but I am delighted that already within the Diocese two people have been identified and selected to train for the priesthood. Anglican training in Ghana takes place at St. Nicholas Seminary at Cape Coast which was opened in 1975 and is the only clergy training college in the whole of the Province of West Africa. One of my Methodist colleagues in my previous parish, Rev. Dr. Cecil King, had been a tutor at St. Nicholas' Seminary and I was privileged to visit there in one of my previous trips.

In the past we have raised money for Mampong Babies Home and that will continue I hope through events such as the Quiz Night at the Church Inn and the Charity Golf Day this year. Bishop Cyril in a letter to me wrote, "As a new Diocese we need to lay a solid foundation for the future and we humbly and respectfully crave your support for our mission and ministry and the empowerment of our people." The training of clergy and the support of the new Diocese is more directly a Church matter and not one that would or should necessarily be of interest outside of the Church family.

I am therefore appealing for 14 individual sponsors who will commit with me to Train A Priest by donating £100 a year for the next 3 years to support training. If you are willing to do this please speak to me, I need to have the funding in place by the end of August so please see me soon. Thank you.

I will end with the words of Bishop Cyril from his letter to me, "It is our prayer that you will support this worthy cause for the sake of the Gospel and the extension of God's Kingdom."
(30-7-15)
Charity Golf Day 1
Laurence Smith, a local solicitor and a good friend of Mampong Babies Home, is organising a Charity Golf Day in aid of the Home on Friday the 18th September. This will be a fun four-ball competition at Styal Golf Club followed by an Awards Dinner at the Church Inn, Mobberley.
If you are interested in joining us for this event please contact us using the 'Contact & Links' button to the left. There will be more information, including cost, nearer the time.